Secret Sex Stories
70
A Secret Sex Stories
Hello, friends. My warm greetings to the listeners of https://nightqueenstories.com
We always meet secretly, never so that it would attract attention. A text message with location, date, and time, which is completely deleted after reading.
A new meeting, this time at the Ritz Carlton in Hamburg. You sent me the data and rented the room under the wrong name because we don't know our names either.
I'm the first to try to check myself into the room you rented with a lie.
The gentleman at the reception prevents that and I make a scene why the room, which I have always been given, was given to him as stupid and wants to know how long he has been working here. Visibly nervous, he tries to calm me down.
This is your sign to appear on the scene. You come and want to check in to my room Why this game ??
Quite simply, nobody should know that we know each other, after all, we are married, just not with each other.
The hotel is fully occupied and nobody wants to do without the room.
While the guy at the front desk is still trying to calm me down, you offer me to share the room because you only booked for one night. When I finally agree, the gentleman breathes a sigh of relief at the reception, since a solution has been found and he no longer expects major problems. He formally asks if a second bed is needed.
I answer in my nice way that you won't mind sleeping on the sofa since you only stay one night anyway.
We are given the key cards with relief and we go to the elevators together.
We don't touch, we continue to pretend we don't know each other, this is part of our deal if we meet someone we should know.
Two strangers who have to share a room for one night.
We stand in the elevator, alone, it glides quietly onto our floor, we are reflected in the smooth cabin walls. Your hands are clasped behind your back and now and then you line up to me. Your bag is next to your feet, right between us, like a barrier. I hold my bag tightly.
We would like to touch each other, not allowed, no touch, no knowing smile, no kiss.
The elevator door slides open and we enter the hallway, which is kept in simple colors. With a few pictures on the wall and a few vases on the floor.
The carpet is white and dampens our steps.
With every step my impatience grows, my hands start to sweat, my skin becomes tight, and my breathing slightly irregular.
You stubbornly look straight ahead, your knuckles protrude white, so now you hold your bag.
Only a few more steps to our door, soon we can breathe easy because then nobody will see us anymore.
We look at the door, we have not yet exchanged a word, we do not need it because we understand each other without words.
The door opens and we enter.
It's a nice room, the same carpet as the hallway, just a shade darker. Similar pictures like in the hallway and lots of flowers.
Our bags end up in the corner, we don't need them until the next morning.
We don't storm, we still don't touch, even though we can hardly stand it.
Your breathing is irregular, your pants are tight and your skin burns like fire.
I move my pelvis back and forth as I walk through the room, taking a good look around.
My heat rises quickly, but I know that I still have to be patient.
Our gaze wanders to the bathroom, which is directly opposite the bed ……..
The bed, when I look at it, immediately gives me an erotic thought oO0 (both of us naked, I lie on my stomach and you on me, hold my hands with your right hand over my head and penetrate deep into me )
I blush, quickly look somewhere else, but you noticed it anyway and smiled knowingly at me.
Your steps move towards a certain goal the bathroom.
You open the bathroom door… I sit on the end of the bed the shower is
large and can be seen from the bed Perfect.
I take off my underwear, doing clear poses, a small strip is only intended for your eyes, and sit back on the bed.
The only thing I have left is my panties and my bra.
You turn on the water in the shower, feel a comfortable temperature and start to take off slowly, do a strip for me too.
You undress completely. You can't miss your erection. I watch you get wet between my legs, my pussy burns, itches, and wants to be touched.
I lean back, put my hands on the bed and continue to watch you. You would love to come over to me, but that is against our rules today.
First, you have to be wet and lathered and have to show me something, only when I like it will I come over to you.
You stand in the shower and start to lather, watch me doing it, your hands touch every inch of your hot skin, your cock pulsates and you moan softly with desire.
I watch you spellbound, touch my skin, drive my right thigh with my right hand and slowly to my stomach … up to my breasts.
I slide under my bra and take the nipple between my index finger and thumb and twist it lightly until it hardens and is vertical.
You look at me spellbound. You would like to put one in your mouth and suck on it.
You keep soaping yourself, touching your shaft, it pulsates in your hands, you drive it up and down, knead it.
The water runs warm over your body and wets your skin. You keep looking at me and caress and caress yourself.
It makes you hot to watch me touch myself, my hand goes under my panties, towards my wet heat, and my pelvis moves back and forth slightly. My clit burns and demands redemption. I drive into my pussy with two fingers and start getting it myself. You are watching intently and satisfying yourself. Although we are not together, we are in the same rhythm, moaning, watching, and would like to go to the other person and seek redemption.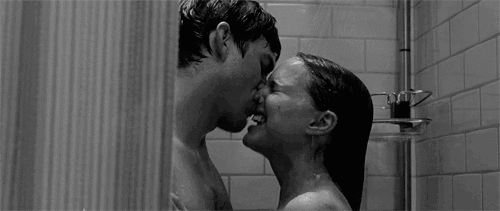 Our orgasms come over us and we groan together.
You are in the shower and although you just had an orgasm, your erection is coming back.
I get up from the bed infinitely slowly, finally taking off my panties and bra.
Now you can see every inch of my skin and you like what you see.
I come to you, get in the shower with you … we hug … we kiss …… finally … it's like an explosion, I get even wetter, my stomach pulls together with joy and excitement.
Your pelvis bumps against mine, your erection is complete, press against my stomach, we kiss more intensely while the warm water flows around our bodies and the steam envelops us.
You press me against the shower wall, the wall is cool and smooth, your hands slide over my body, your kisses wander from my mouth over my neck to my chest, where you are now doing what you have wanted to do all along.
You put my nipple in your mouth, up to the yard, and suck and suck, gently biting into it.
I answer with a groan, my hands move over your back, and my fingernails leave slightly reddish streaks.
I kiss your head, enjoy your kisses. Slowly you come back up, stand in front of me, and catch my mouth with a kiss.
Your tongue demands entry and a small open gap from my mouth are enough to permit you to explore it with your tongue.
You push yourself between my thighs, push them apart,
Your member plays on my moisture and teases me. I answer with a groan. My right-hand wanders to your erection, my hips invite you to sink deep into me, fill me up and give us two pleasure.
Our cymbals move in unison, slowly and carefully you penetrate me, and I shift into a suitable position so that it is easier for you to penetrate …
Now you fill me.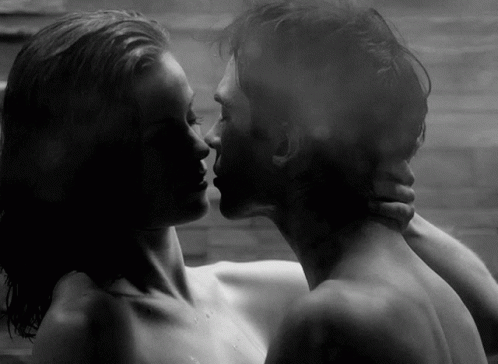 My head falls back, I lift my pelvis slightly, you move firmly and strongly in
me. Your limb pulsates.
Stars danced in front of our eyes, and hot well-being builds up in our bellies. Before we get the redeeming orgasm, you get out of me.
I turn my back to you and stretch my butt towards you.
You hold my hip tight, now penetrate me from behind, move calmly and evenly.

The only thing you can hear is the rustling of the water, our moans, and the slipping of our bodies, which come together again and again.
It's nice, it's awesome, I'm about to reach my orgasm, but you won't let me, it would be too early!
You pull your limb out of me, turn me back to you. We face each other and kiss.
My eyes tell you it's your turn now
I walk with my kisses over your body, your neck your chest, stay there a
little, take your nipples alternately in your mouth and suck on them until they are hard and stiff I spoil your belly as well. You hiss as you start to bite your skin. I get on my knees, kiss your thighs, run my hands over your skin, dwell briefly on your limb, and massage it gently. My kisses wander from the thighs to your erection, it brushes against my cheek, but I don't let myself be led away from the way. You claw your hands in my wet hair and try to guide me, but I continue to set the pace and the way myself.
After a sheer infinity, I arrive at your member, kiss it, lick it, I catch your drops on the tongue with the tip of my tongue, my hands play with your balls …
You let go of my hair and lean against the wall behind you.
I put your erection in my mouth, suck it in as deep as possible.
Get your entire erection in your mouth. I suck until my cheeks are tight around your member like a wet pussy, only then do I start to go back and forth with my head.
You draw in the air sharply … I suck and taste, I move my head back and forth, your pelvis moves with my rhythm. I bring you to the edge of madness, shortly before your orgasm I suddenly stop ……………………………
………………………………………….. ..
………………………………………… ……………………………….
I come up again, ignore your hands, they try me Push down, hear your protest moan, I have something else to do with you.
I turn you over, your hands are supported on the wall, your torso slightly bent, your beautiful buttocks stretched towards me.
My left hand is on your left hip, my right-hand caresses your anus, and very slowly I drive in with my index finger, in and out again and again ….. out …..
in-out, use my middle finger in, out, in, out. I know you like that because
you told me once.
Your moan is music in my ears, your lust increases, again you are close to orgasm and again this time I stop before you come, all just to torment yourself !!!
I get out of the shower and order you to wait with your face to the wall and close your eyes.
Shortly afterward I come back into the shower, hiding something behind my back.
You want to know what it is and turn your head in my direction.
I keep turning it towards the wall so you don't see what I'm doing behind you.
You hear me fiddling, try to turn your head, but I keep turning away, every time you turn it back in my direction you get a pat on the butt.
You like that, do it more often, >> hit me!
is the only thing you say to me. A soft moan escapes me.
After I'm done with my preparations, I put a little lubricant on my hand and rub it on your anus, it makes you wild.
You finally want to know what I'm doing back there but now I'm done, press yourself firmly against the wall and you get a last pat on the butt.
I push your upper body down a little, then I slide into you with the wrong penis, but it's not an ordinary penis, because the second part is in my pussy.
So I not only slide into you but also myself at the same time.
We satisfy each other, our cymbals go back and forth, and our moans become one. I hold your hip with both hands, pulling it back and forth so that the rhythm is right.
Our movements are faster, harder, we can hardly stand it, can hardly hold it back.
Now that we can finally do it, we can hardly hold onto ourselves and we mercilessly fuck ourselves through with the double dildo.
Our orgasms build-up, wave by wave, with every movement we are closer. We stop shortly before we come.
The water is getting cold.
I pull away from you pull the dildo out of the anus, you turn to me and pull it painfully slowly out of my pussy, and we kiss again very tenderly.
You turn off the water.
We get out of the shower together, can hardly stand or walk, hold each other tightly and go to bed together.
I lie down on it, look you seductively in the eyes, and wave my right index finger at me.
You lie down on the bed next to me and smile at me.
We'll stroke each other until you put me on my stomach.
You lie half down on me and kiss my back, caress my sides and lift my pelvis
slightly.
Your erection hits my bottom.
I keep raising my buttocks so that it is easier for you to penetrate me.
Your right hand caresses him and keeps slipping into my column, feeling my damp heat.
Your hand works up to my shame, drops of lust pearls on your fingers, you smear them and start to moisten my anus with them.
Slowly you slide into me first with one and then with two fingers, you widen my anus.
Then finally you penetrate me with your firm staff.
The first bumps are gentle and you only slide a little bit deeper until you are completely inside me.
You bump into me, over and over again
>> How do you want it? >> hard!
You bump into me, faster and more violently, a moan accompanies you, I take you in, cry out of sheer lust and pain, but it is a sweet pain that keeps driving me on my cloud of lust.
Your right-hand wanders up to my pussy, you drive in with two fingers, then a third is added, and you fuck me from the front and back at the same time.
I can already see stars in front of my eyes, I feel slightly dizzy from sheer lust.
I hear your quick breath that runs down my back.
Our orgasms build up to be strong and violent after a long time.
This time we allow it and our bodies rear up, the tractions are strong and long, you pour yourself deep into me, only twice then three times your sperm shoots deep into me.
You lie down on my back, kiss me. I feel your cold sweat on my skin. Your now flaccid penis slides out of me carefully and gently.
We sink into the pillows, caress each other, kiss each other, the bodies still shake slightly, we cover ourselves up, snuggle up to sleep.
Because we know …… soon we'll be leaving …..until the next meeting.
In the next story, I will share with you another story named "New Sex Experience"
We hope you like to stay with us. We will continue to provide you with the best sex stories. To get more stories like this visit nightqueenstories.com and if you are looking for some erotic images then visit our image page also.
Click here for Hindi Stories Indian Antarvasna Sexy Hindi Seductive Stories
Click here for English Stories Best Real English Hot Free Sex Stories
Take care of yourself. And keep your love like this.
Don't forget to comment and like.
The End.